GCAP Newsletter – Global Week of Action, People's Assembly & General Assembly Tuesday November 12th, 2019
See, read and subscribe to the full newsletter here!
Dear friends,
2019 has been a year of massive protests  against authoritarianism and corruption, austerity and inequalities, including the Global Climate Strike – the largest climate protest in history. From Hong Kong to Chile to Lebanon to Iraq and the Czech Republic, millions are demanding a world with justice and equality for all.
GCAP has been at the forefront in rising up to end inequalities and by joining the climate and youth climate movements and thousands of people to #StandTogetherNow for equality, voice and climate justice. In September, not only did we coordinate the People's Assembly, but we were active all over the world for the Global Week of Action
Global Week of Action
2019 marked the third year of a global movement to #Act4SDGs initiated by GCAP and the UN SDG Action Campaign to mobilise communities, organisations and institutions to push towards a more just, peaceful and sustainable world. In addition, this year we were excited to jointly mobilise to #StandTogetherNow for Voice, Equality and Climate Justice with the climate and youth climate movements and a wide range of civil society partners and coordinated with Action for Sustainable Development.
The Global Week of Action was a huge success with over in over 1,000 cities and 125 countries participating, and approximately 7 million participants in the global climate strike campaign on the 20th and 27th September alone! GCAP called to be part of the climate strike. Throughout the week, GCAP National Coalitions and Constituency Groups were active across the world.
GCAP Czech Republic supported Fridays for Future with the climate march and appeared on Czech TV for the Festival for the Future and Sustainable Development.
GCAP Mali organized a mobilisation on 25/09 focused on and by women with disabilities to highlight and raise the key challenges that they face, as well as a press conference where the women shared their views and voices on the diverse multiple forms of discrimination that they face daily and the key role of women especially women with disabilities in community development.
GCAP Bangladesh organized local People's Assemblies and protests.
In the Philippines, Kahirapan Wakasan (GCAP Philippines) organized a Run for Equality: youth march around the Quezon Memorial Circle, calling for government action to reduce inequalities, increase civic space, and achieve climate justice. Students also staged a die-in as a result of climate-induced disasters.
The Hellenic Platform for Development (GCAP Greece) organized 17 days on the SDGs in Greece & Cyprus with 61 actions by 91 organizations & institutions, in 30 cities and villages with more than 39 thousand citizens.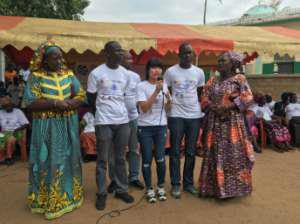 GCAP Senegal organized an activists' forum with local people on inequalities and climate change in Île de Mar-Lodj.
In Brussels, more than 15,000 people  took part in a march organized by Fridays for Future, with GCAP as a co-organiser. We created a stunt forming the words = (for Equality), Climate & Voice – see the photo on the top.
People's Assembly 2019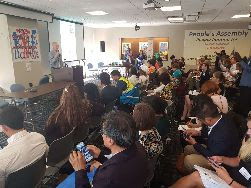 Philip Alston, UN Rapporteur on Extreme Poverty and Human Rights at the People's Assembly
Parallel to the UN SDG Summit of heads of state and the UN General Assembly, GCAP in cooperation with 21 global and regional partners organised the People's Assembly 2019 on 24- 25 September in New York. 300 civil society delegates, from 80 countries and over 200 organisations, represented thousands of people whose voices would not otherwise be heard, much less given seats in the UN.
People's representatives spoke in nine thematic sessions and called on governments to adopt more responsive policies and implement radical measures in the economic system to stave off the devastation of the earth. Based on these inputs and discussions the Peoples' Assembly Declaration was developed, which highlights key demands on the following issues:
Peace and Conflict
Climate and Environment
Inequalities
Decent Work & Discrimination on the basis of Work and Descent
Gender
Persons with Disabilities
Civic Space
Respect of Indigenous People and Land Rights
These demands of the People's Assembly were brought into the CSO Forum of the UN SDG Summit, where Annie Namala from Wada Na Todo Abhiyan (GCAP India) spoke on behalf of the People's Assembly.
At the opening of the Assembly, people's representatives and invited speakers spoke on urgent issues facing the world at the time of extreme climate emergency, deep social divides from poverty and inequality, closing spaces for asserting and defending human rights, and a lack of decisive actions by governments. They included:
UN Deputy Secretary General Amina Mohammed sent a video message to the People's Assembly
Mikyung Lee,  Korea International Cooperation Agency (KOICA)
Philip Aston, UN Rapporteur on Extreme Poverty and Human Rights
Alison Tate, International Trade Union Confederation
Beena Pallical, Asia Dalit Rights Forum
Elcio Da Silva Machineri, COICA – International Coordination of Indigenous Organizations from the Amazon
Mithika Mwenda, Pan African Climate Justice Alliance (PACJA)
Beverly Longid, CSO Partnership for Development Effectiveness (CPDE)
Anne Agar, Polycom Kenya
Johannes Grün, Bread for the World, Germany
Kumi Naidoo (former GCAP co-chair), Amnesty International
The People's Assembly organized a public action in front of the UN to #StandTogetherNow
The high level of enthusiasm from the participants generated at the People's Assembly has inspired GCAP and its partners to convene these meaningful assemblies at all levels in every place where urgent actions are needed.
GCAP General Assembly
GCAP held its General Assembly on the 26th and 27th of September 2019 in New York, with the participation of 45 representatives from three constituency groups (Social Justice Task Force on Discrimination Based on Work and Descent (DWD), Youth, and Women & Feminists) and members from 30 countries.
The conclusion of the General Assembly confirmed and renewed the mandate to work against poverty and inequalities, with a special attention to climate justice, to protect and widen civic spaces for participation and democracy, and to preserve and support peace through comprehensive dialogue.
Thank you to everyone who participated in our September activities. We look forward to cooperating with you more and strengthening GCAP's work for global justice!
In solidarity,
Beckie Malay, Riccardo Moro & Salina Sanou
GCAP Global Co-Chairs